About Us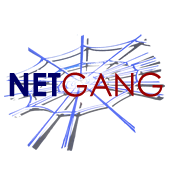 A group of Professionals with technical skill and preparation. We'd like to introduce NetGang.
The project was born in 1986 and operates in the ICT branch since early '90s, within the first Internet Service Providers and IT departments of its Customers. Since then we worked within Datacenter and Network operations of private Companies and ISPs, developing a Solution Provider business model rather than becoming a "box mover" or body rental company.
Why NetGang
In evolution since 1986
Over 20 years of evolution and knowledge proofing in the IT market, delivering state of the art services and solutions.
Ethical WhiteHats
We strongly believe in Professional ethics. Our goal is to deliver our Customers the best quality of service with the most efficient and secure solutions.
Non Disclosure Agreements
As part of our policies introduced by 2013, all our Customers, either end-user or third party, will be safeguarded by a NDA.
NetGang: about us
NetGang was established in 1986 and our experience was acquired within the big ISP and Corporate Datacenters and between end user desks within very diverse branches in Italy and Europe. We are proud of long time relationships with important Customers like Speakerbus and experiences like IT management and operations within companies like AMEX (Italy). NetGang was head of operations and management of few Italian ISPs, the most relevant for sure has been Flashnet/Cybernet and praises relevant local cooperations like the one with "Politecnico di Milano".
We count the presence of highly skilled technical staff with strong experience in various ICT branches. Most of our staff is technical, including the top management.
As Solution Provider & System Integrator we keep developing our knowledge and solutions to deliver always a state of the art Services and Solutions. Our experience currently allows us to deliver services and solutions among the following:
Our service delivery model is based on direct knowledge of our staff and working directly with our Customers, as well as a Network based cooperation that allows us to reach areas not directly IT related. This allows NetGang to deliver a much wider set of services with the same level of quality and services as its own. Our experience brings us to work in a variety of branches, including:
We don't lack in the desire and interest to challenge ourselves with new contests or to gain knowledge and expertise in new branches or proofing it. Our technical skill is always challenged by the evolutions of the IT branch and we keep developing our own knowledge with courses, direct relationships with Vendors and Partenrs to enhance our skill and quality of service.
Skills Assessment
We praise the presence of experienced Professionals within our team, and among them we count certified personnel with the following skills:
The proven know how and experience gained by each Professional, and therefore NetGang itself, allows us to deliver the following services in addition to the above mentioned: